Celebrating 60 Years of Friendship and Service with Africa
60th Anniversary Invitation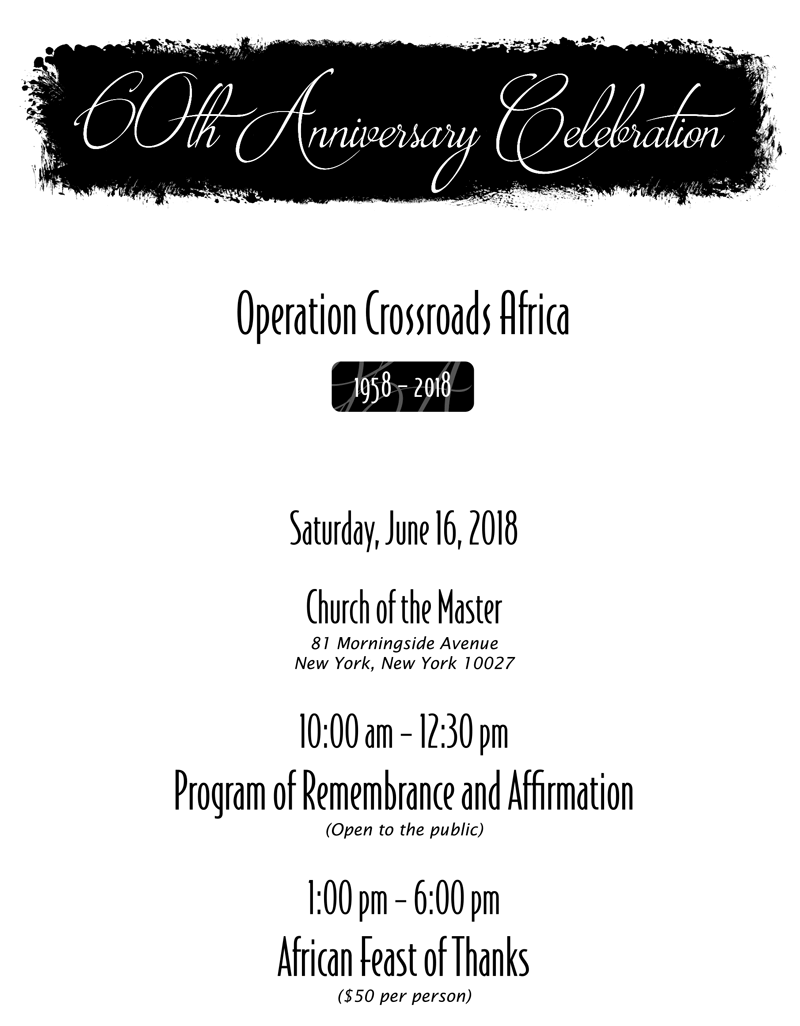 Click here to print your RSVP and return to:
Operation Crossroads Africa
Post Office Box 5570
New York, NY 10027
Tickets can also be ordered online at:
http://operationcrossroadsafrica.eventbrite.com/
Please note that there is a $5.00processing for using Eventbrite.
THE EVENT IS SOLD OUT
Traveler Information for the Celebration
The following information is being shared in response to a number of inquiries from Crossroaders who do not live in the New York City area:
Which Airport would be the best one to fly into?
The best and closest airport is LGA (LaGuardia) it's also reasonably close to the Harlem area of New York City where the celebration will be held.
Bear in mind that LaGuardia is under renovation and airport services may be disrupted at intervals.
How much does transportation from the airport to the hotel/church cost?
The easiest way to travel is by yellow taxi. You can expect to pay about $30.00 to get from LGA to the church or the Aloft Harlem Hotel.
The least expensive option from LGA to Manhattan is the M60 bus, which you can board within the airport. Take the M60 bus to 125th Street and St. Nicholas Avenue, which is walking distance to the Church of the Master and the Aloft Hotel. You can buy a bus/subway pass in the airport.
Uber and Lyft are also options:
Here's how you can estimate how much an Uber (Cheaper Taxi) will cost:
https://www.uber.com/fare-estimate/
Here's how you can estimate how much a Lyft (Rideshare Taxi) will cost:
https://www.lyft.com/fare-estimate
How walkable (safe) is the area around the hotel and the reunion site?
There is no problem in walking in any area of New York City. One needs to be mindful of being in a very busy city where caution is the watchword in everything that you do.
Is the hotel near inexpensive places to eat?
Yes. There are a variety of places to eat in the vicinity of the church and hotel. Everything from fast food outlets to fine dining establishments.
Harlem is known for many great eateries such as:
Sylvia's Soul Food, Red Rooster, Chez Lucienne, Chocolat, Corner Social and Melba's and many others.
Use Yelp, Facebook and Google Maps for reviews of other great preferences.
You may also use Food Delivery such as UberEats and Grubhub.
How much does transportation cost between lodging area and the reunion site?
The Church of the Master and the Aloft Hotel are within walking distance of each other.
The Church of the Master Address:
81 Morningside Avenue New York New York 10027
The Aloft Harlem Hotel (Starwood Hotel) Address:
2296 Frederick Douglass Boulevard New York NY 10027

Until May 27th, you can reserve a room a the Aloft Harlem Hotel at a special rate by using the link below:
https://www.starwoodmeeting.com/events/start.action?id=1709203443&key=1F815F7B
Operation Crossroads Africa 60th Anniversary RSVP
It has come to my attention that the Post Office has been returning as "undeliverable" the RSVP cards that were sent out in the invitation to the 60th Anniversary Celebration for Operation Crossroads Africa. This has happened as a result of a change in Post Office policy. Operation Crossroads Africa has utilized the same post office box address for more than fifteen years (Post Office Box 5570, New York, NY 10027). During that time, the Post Office always notified box holders thirty days in advance of fees related to the rental of its post office boxes. Because of cutbacks in staff, the Post Office recently decided that it would no longer notify renters of post office boxes of rental fees due. This change in policy led to many post office boxes being shut down/blocked without any notification. As a result of calls from Crossroaders reporting the return of their RSVP cards, I have been in touch with the Post Office and been assured that Post Office Box 5570 is operable.
If you mailed an RSVP card for the celebration and it was returned, you can remail it to either of the addresses listed below:
Operation Crossroads Africa
Post Office Box 5570
New York, NY 10027
or
Operation Crossroads Africa
34 Mount Morris Park #1
New York, NY 10027
Unfortunately, if you mailed your RSVP without a return address, there is no way to retrieve it. You are kindly requested to resend your RSVP information to either of the addresses listed above.
A running tally will be posted on the Operation Crossroads Africa website of RSVP information as it is received.
Apologies for any inconvenience that this snafu has caused.
Willis Logan
Chairman
April 3, 2018
What is Operation Crossroads Africa?
CHALLENGE YOUR PERCEPTIONS.
CHANGE YOUR VALUES.
SPEND A SUMMER
BUILDING BRIDGES TO AFRICA
FIND THE DIFFERENCE
MAKER INSIDE OF YOU.
CROSSROADS: A CLEAR-CUT,
HARD-HITTING PROGRAM
Operation Crossroads Africa is a U.S.-based, private voluntary organization that sponsors cross-cultural exchanges and small-scale service projects in Africa.
For seven weeks each summer, teams of eight to ten Crossroads volunteers, a Crossroads group leader and local volunteers join with a local community on a project that involves local people and Crossroaders working together.
In 2018, Crossroads will support projects in several African countries. We invite you to become a part of the Crossroads tradition as a participant or Crossroads leader.
Why volunteer as a Crossroader?
Top Six Reasons to Volunteer Abroad with Operation Crossroads Africa:
International Experience
Have an authentic immersion experience in Africa. Living and working in a local community; eating local foods and grappling with the same daily concerns of the people in the host community.
History
Become part of a tradition of service that spans more than fifty years, which has a network of thousands of alumni worldwide who are working to make the world a better place. In 1962, President John F. Kennedy called Operation Crossroads Africa the "progenitor of the Peace Corps", at a ceremony at the White House in honor of the 1962 volunteers.
Community Service
Do real work that has a direct impact for people in the host community and yourself.
Leadership / Self Awareness
Be exposed to important leadership skills and concepts from the experiential learning module used by Operation Crossroads Africa which focuses on working within a group. Gain on-the-ground real experience working in a team, a proven desirable skill employers seek when recruiting new employees.
Preparation
Receive careful and expert guidance through every phase of the program.
Safety
Live and work in a safe environment.
The Crossroads Africa Program Overview
The Africa Program focuses on service projects in selected African countries each summer. In 2018, the following countries have been selected as possible project sites:
English-speaking
Gambia, Ghana, Kenya, Uganda
Zambia, Zimbabwe
French-speaking
Senegal and Togo
June 15 – August 10, 2018
3 days of orientation
6 weeks of work on a Crossroads Service Project in the host country.
1 week of travel in the host country.
Crossroaders engage in five types of projects:
Community Construction Projects
Community Health/Medical Outreach Projects
Agriculture/Reforestation Projects
Education/Training Projects
Women's Service Projects
Community Construction
Community Health / Medical Outreach
Agriculture / Reforestation
Education / Training
Women's Services