What Makes OCA Different?
There are many different organizations offering cultural exchange experiences and other study abroad opportunities. Some organizations seek to be global in their approach. Other organizations focus on work themes. And there are some organizations that focus on the volume of participation as their signature. We believe that in this age of accelerated globalization, it is important for as many people as possible to have some type of international experience. However, if you are interested in Africa, we believe that our more than fifty years of program experience in and with Africa has defined important and unique differences between Operation Crossroads Africa and other organizations.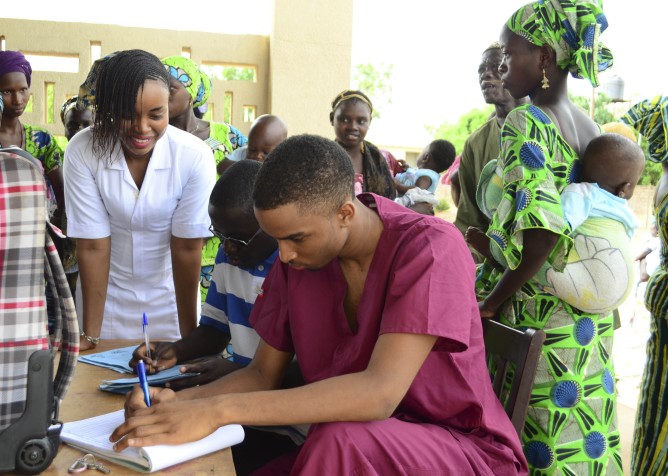 Why OCA?
Operation Crossroads Africa is focused on Africa. Our program commitment is to Africa and everything African –people, culture, languages, countries, history.

It is a total and authentic immersion experience. Volunteers live in the host community, work in the host community and share the daily routines of the people of the host community.

Operation Crossroads Africa is committed to diversity. In recruitment of volunteers and every aspect of the Crosssroads experience, we strive for diversity. We believe that globalization demands inclusiveness, which contributes to each volunteer having the broadest and best possible experience.

It is people centered. Operation Crossroads Africa is about bringing people together for the purpose of "building bridges of friendship" between volunteers and people in Africa. Many volunteers gain life-long friends.

Operation Crossroads Africa is moderately priced. Despite ever increasing travel costs, Operation Crossroads Africa has maintained an all-inclusive fee that includes international airfare, orientation expenses in New York, visas, travel insurance, in-country room and board, and in-country basic travel. This is made possible by the ongoing generous support of the alumni of Operation Crossroads Africa who help to make the "Crossroads Experience" available to as many people as possible.

It is a good introduction to international engagement. The basic question for people who want to become involved internationally is: Where do I start? Participation in the programs of Operation Crossroads Africa will give you knowledge of the protocols of international travel; expose you to valuable leadership skills; give you a deeper understanding of group management dynamics and techniques; and equip you with the skills to successfully and meaningfully engage another culture.